Calligraphy 3-piece suite on handmade paper
Fine art wedding inspiration - vintage calligraphy envelope
Pressed flower place cards
Handmade paper menu
Ethereal wedding stationery - Amanda and Thomas
Modern calligraphy place cards
Calligraphy wedding envelopes
Handmade paper wedding invitations
Velum wedding invitations
Foliage wedding invitations
Elopement wedding invitations
Light blue agate place card
Calligraphy love letter
Newlywed room sign
Gold dinner menu with a calligraphy crest
Teal agate place cards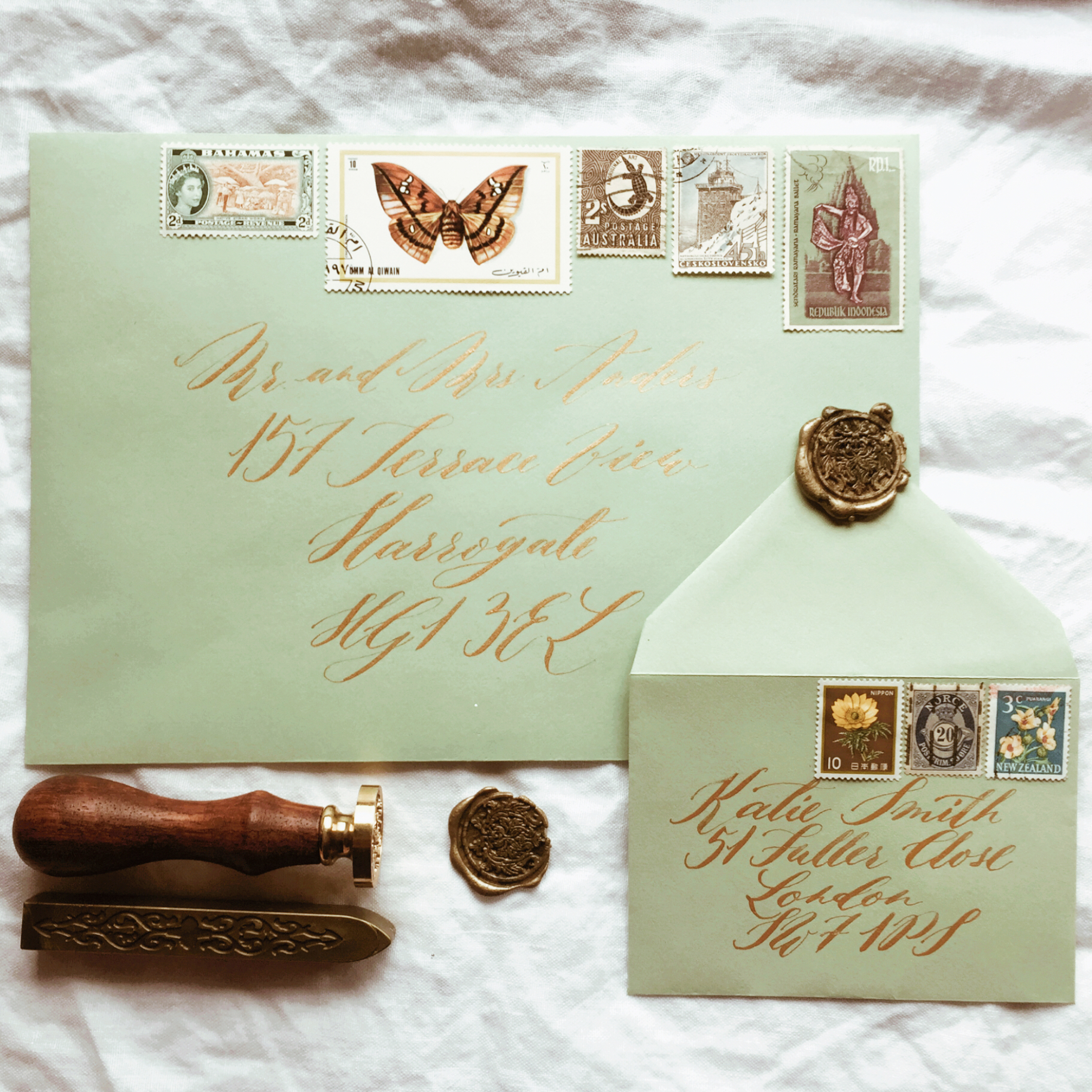 Wedding calligraphy envelopes
Handmade paper shoe tags
Foliage wedding stationery
Calligraphy wedding suite
Gold calligraphy envelopes
Modern wedding invitations with minimalist calligraphy
Letterpress wedding invitations on handmade paper
Flower illustration place cards
Blush quartz slice wedding place cards
Navy wedding envelopes with white ink print
Pale grey handwritten place cards
Coworth Park wedding photographer
Calligraphy 3-piece suite on handmade paper
Handcrafted calligraphy names digitised for printing feature on handmade paper along side vellum overlay with a vintage floral illustration that holds the invitation suite, tied with a hand dyed silk ribbon.Printed guest address wedding envelopes.Pale grey colour scheme can be personalised to your requirements.
Fine art wedding inspiration - vintage calligraphy envelope
This editorial wedding shoot from Hawaii features a handwritten calligraphy quote on grey handmade paper together with a vintage calligraphy envelope. My stationery work appears alongside a classic pair of Valentino heals that are to die for! Photo credit: Alice Ahn
Pressed flower place cards
These cards feature real pressed flowers - usually flower types are mixed, but only one of a selected number can be used.From there the cards feature a full calligraphy name with a table number - ink colours, the use of first or full name and addition to a table number are all customisable.
Handmade paper menu
This handmade paper dinner menu also features a vellum name card fastened with a metallic eyelet.All guest names are handwritten and the ink colour can be customised to your needs (the image shows gold).
Ethereal wedding stationery - Amanda and Thomas
This real wedding stationery sample was truly special and the couples story touched my heart!The suite features hand finished invitations with couples initials in a wreath, their full names and wedding date in gold ink.Italy wedding map with a bespoke church illustration on vellum paper hand finished with their monogram and city names in gold ink.Thank you cards with hand finished title and small foliage illustration in gold ink.Outer envelope with handwritten guest address (modern calligraphy style) in gold ink.
Modern calligraphy place cards
Handmade paper place cards feature a handwritten guest name in black ink (modern calligraphy style).Ink colour fully customisable.
Calligraphy wedding envelopes
Pale grey hand addressed envelope with vintage postage stamps and olive branch wax seal / hand written calligraphy.Shows white ink, colour can be customised to your requirements.
Handmade paper wedding invitations
Light blue handwritten calligraphy wedding stationery set - floral illustration wedding dinner menu, silver foiled place cards, blue agate place cards, hand addressed envelope with vintage postage stamps
Velum wedding invitations
Vellum paper wedding invitations featuring hand written couple's names in gold ink. Vellum is fastened to a full handmade paper sheet that contains the rest of the invitation text. Guest addressed forest green envelopes. All colours and paper types can be customised.
Foliage wedding invitations
Calligraphy wedding invitations featuring couple's initials in a foliage wreath.Full names and wedding date are handcrafted in a modern calligraphy font that is digitised fro printing.Suite shows Wedgewood blue envelopes hand addressed in white ink.Matching vow book with a hand dyed ribbon.All colours customisable.
Elopement wedding invitations
One of a kind wedding suite for Selena and Jonathan's elopement. Hand finished suite shows couples names, date, quot cards and envelopes in walnut ink (modern calligraphy style).The cutest detail - the main envelope is addressed to the couple's dogs.
Light blue agate place card
Handwritten guest name in white ink
Calligraphy love letter
E.E Cummings poem I Carry Your Heart With Me handwritten on handmade paper in dark grey ink.Ordered by a wife for her husband.
Vintage postage stamps and wax seal envelopes
Newlywed room sign
A cute little sign to show guest names for their rooms. Wedding was hosted at Anyhoe Park and the couple wanted to have a name card on each room for the guests who were staying at the venue.
Gold dinner menu with a calligraphy crest
Dinner menu featuring couple's initials in a foliage wreath with handwritten course titles in gold ink.Handmade paper menu
Teal agate place cards
Calligraphy teal agate with handwritten guest name in white ink.Ordered for a pregnancy announcement where the couple included their family member names and newly acquired titles (grandparents, greatgrandparents).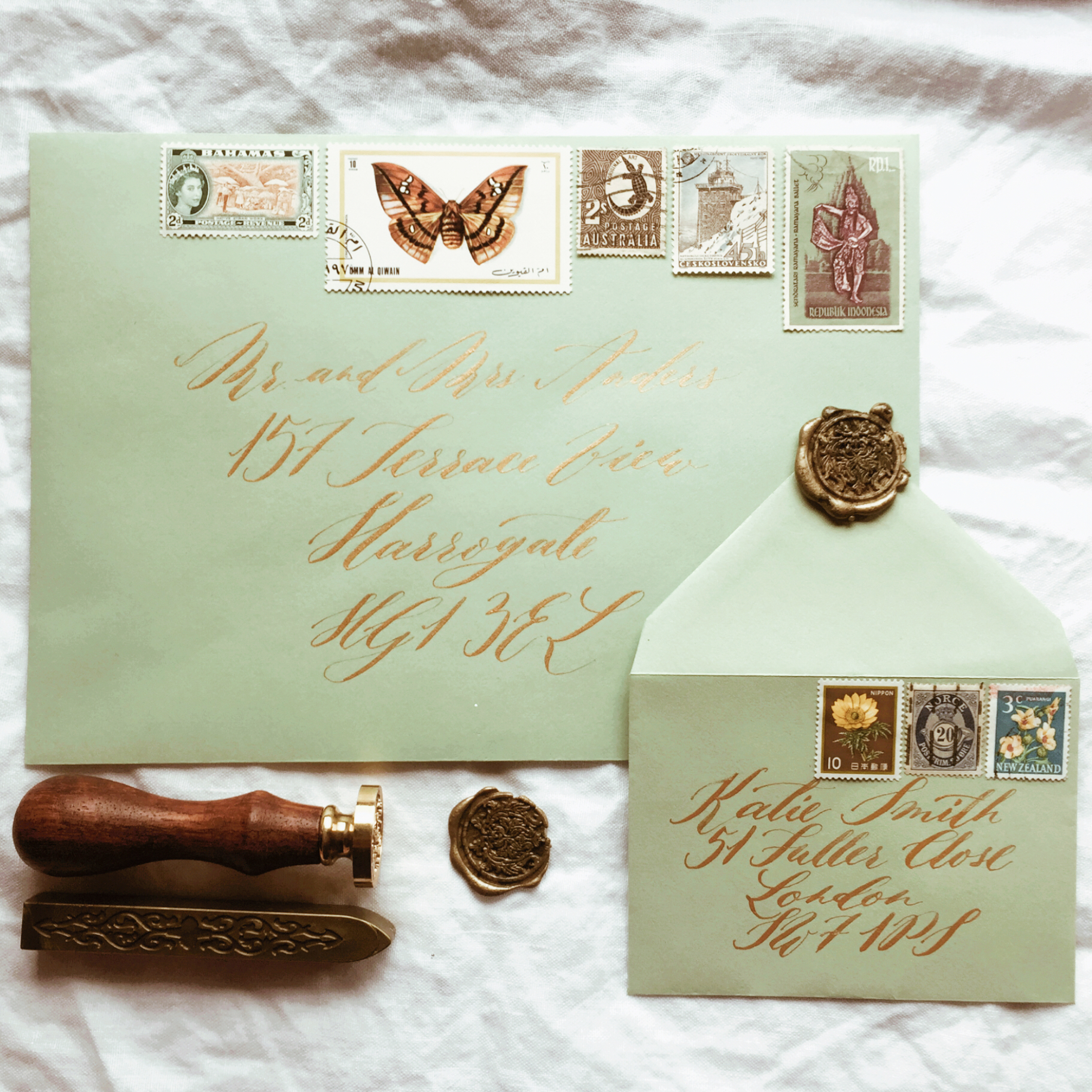 Wedding calligraphy envelopes
Hand addressed envelopes with vintage postage stamps and wax sealing.Example shows sage colour envelopes with gold ink and vintage gold wax seal.
Handmade paper shoe tags
Handwritten calligraphy name tags on handmade paper with gold ink These tags were used fro bridesmaid shoe bags - metallic gold eyelet for tying.
Foliage wedding stationery
Wedgewood blue wedding stationery with spot calligraphy initials and couples names. The suite is held together with a super thin white thread.
Calligraphy wedding suite
Wedding invitations for Alyssa and Benjamin.Calligraphy detail was individually handfinished in pale grey ink.
Gold calligraphy envelopes
Hand addressed calligraphy wedding envelopes - gold in on handmade paper envelopes.
Modern wedding invitations with minimalist calligraphy
Spot calligraphy couples names digitised for printing on premium card stock. Printed guest envelope.
Letterpress wedding invitations on handmade paper
Thick handmade paper letter pressed in pale grey ink.Pale grey letterpress invitations feature calligraphy initials, foliage illustration detail and calligraphy names and date detail. Calligraphy wedding envelopes in pale grey ink on handmade paper
Flower illustration place cards
Vintage botanical illustrations feature on these place cards with handwritten calligraphy guest names.
Blush quartz slice wedding place cards
Blush quartz slice guest names - modern calligraphy style in white ink.Handwritten place cards - pale grey ink on handmade paper.
Navy wedding envelopes with white ink print
All dark colour envelopes can be printed in white ink to handle guest addressing. White ink printing really allows to choose any outter colour envelopes which previously would have required hand addressing in white or metallic ink.
Pale grey handwritten place cards
Calligraphy bride and groom place cards - pale grey on handmade paper.
Coworth Park wedding photographer
Calligraphy table tame - pale grey on handmade paper
1
2
3
4
5
6
7
8
9
10
11
12
13
14
15
16
17
18
19
20
21
22
23
24
25
26
27
28
29
·
·
·
·
·
·
·
·
·
·
·
·
·
·
·
·
·
·
·
·
·
·
·
·
·
·
·
·
·